urple (in German "lila") is an unusual colour choice for a company. "We started up 27 years ago as a small company. We have always had to do some things a little differently from everyone else," explains Michael Müller, founder and Müller CEO – Die lila Logistik AG in Besigheim. For the company, doing things differently predominantly means breaking down the classic separation of consulting and operating. Die Lila Logistik has "lila Consult" and "lila Operating", but also the combination of both of them. They develop complete logistics concepts: "We come up with new solutions for our customers. They can then decide whether they implement them themselves or want to implement them with us as a partner."


HONOURED BY THE GERMAN LOGISTICS AWARD
As part of a long-term collaboration, these solutions are under continuous development. An example of such a cooperation is the collaboration with Mercedes AMG. The Mercedes subsidiary builds high-performance vehicles for the group. In 2013, they commissioned lila Logistik to build a new logistics centre. The innovative warehouse and manufacturing concept, which saw Müller take on the production supply up to the engine shop's production lines, was awarded the "2014 German Logistics Award".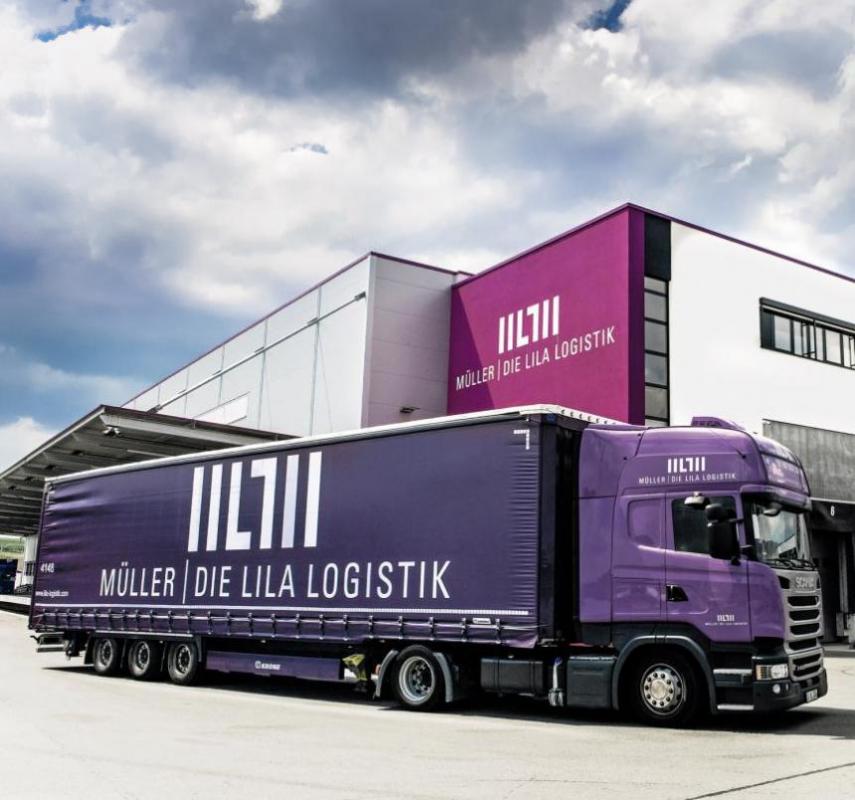 The colour purple (lila) also stands for the company's philosophy: To create purple you have to mix blue with red. In colour theory, blue is a cool shade symbolising rationale: objectivity, calm and reality. Red characterises enthusiasm: emotionality and dynamism. "If you mix these tones, you get purple (lila), a combination of these strengths. So, in our company, we also combine consulting with operational implementation - i.e. thinking and action," says Michael Müller. "We connect goods and information, but most of all we connect people."


MEGA TRAILERS ALLOW FOR FLEXIBILITY

As a logistics provider, die lila Logistik serves a variety of industries: automotive, electronics, industrial and consumer goods. This means the internal height of the trailers used needs to be exceedingly flexible. The company therefore relies solely on mega trailers in its fleet. "We believe in standardisation," explains Michael Müller, "I cannot upgrade a standard trailer, a mega trailer is much more flexible." There are already 70 Krone trailers in the Müller fleet and the plan is to expand the fleet to a total of 100 Krone semitrailers. There will only be mega liners.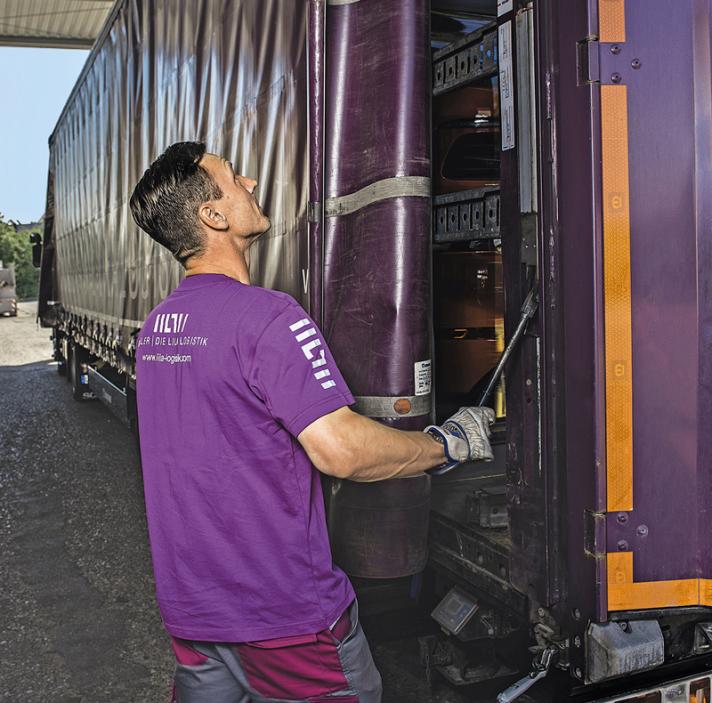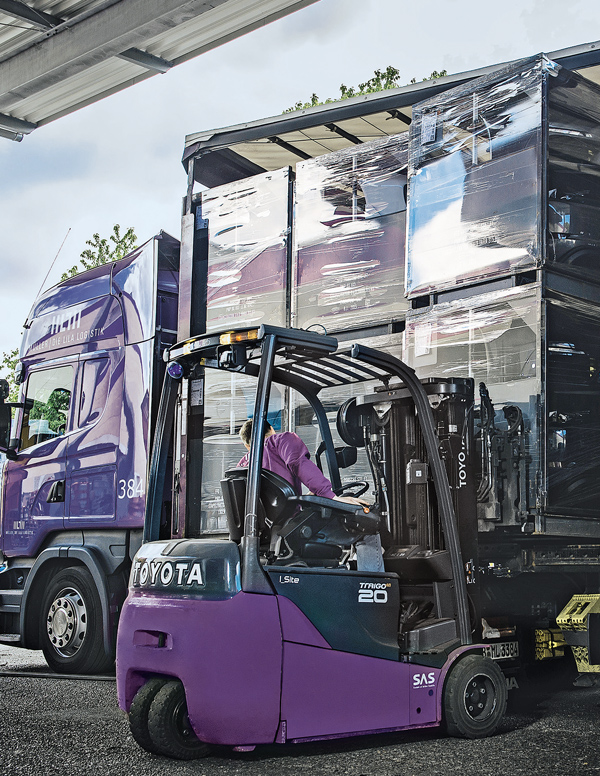 Particularly easy to load and unload as a curtainsider: Müller – Die lila Logistik AG is working more and more with the Mega Liner from Krone.

"For us, the quality of a product is key," says Müller. "I think it is really exciting that Krone brings so much experience from the agriculture sector, where particularly high demands are put on the material." The level of ongoing operating costs is an important factor for him, along with good spare parts availability: "Krone is immensely strong in this respect," says Müller. "The company has standardised a lot and has a close relationship with its customers." Die lila Logistik has worked with Krone Commercial Vehicle Group since 2014. "We place great importance on long-term collaborations with our partners," says Michael Müller. In order to develop them, you need, in addition to a high-quality product and its availability, one thing above all else: reliability. "That sounds somewhat old-fashioned but, in my opinon, it is incredibly important that both partners are reliable. Here, our experience with Krone has been nothing but positive."


NEW OVERALL STRATEGY

Reliable products mean that the Müller – Die lila Logistik AG leadership team can concentrate on strategic issues. The overall strategy was realigned in 2016 and different teams are now in the process of implementing them throughout the company. Open communication with all employees is particularly important to Michael Müller in processes like these. "Because the company is listed on the stock exchange, it is very transparent for colleagues, customers and partners. We stand for credibility and actively live it as well," says Müller. "There is not a single decision that is made in an ivory tower. People in the company know what we are doing; it is transparent. Everyone knows the tasks and challenges we face. We talk about the successes just as much as the failures."


ABOUT MICHAEL MÜLLER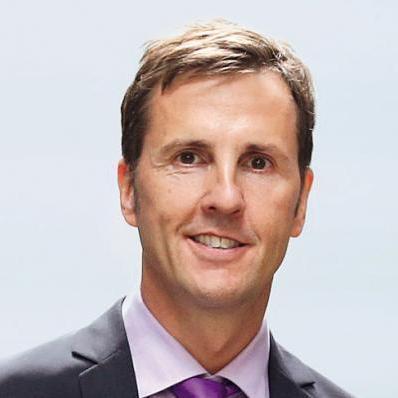 Michael Müller originally trained as a forwarding agent and later studied business administration specialising in logistics. He got his first job by chance: He had to plan the merger of several warehouses. In 1991, Müller founded his own company, which he still runs today. As chairman of the Executive Board, he is responsible for the strategy, sales, consulting and company communication. Müller – Die lila Logistik AG now operates 18 branches in Germany and Poland and has around 1,700 employees. In 2017, Group sales were 142.4 million euros.


Michael Müller feels that his company's tasks now are to further develop its services and seek out new opportunities through technology and artificial intelligence: "None of us can really foresee how this technology will develop." Recruiting staff is another challenge the company shares with a lot of other industry players. Due to the demographic shift, there is a lack of skilled workers and at the same time capacities are being freed up due to digitisation and automation. "These are people with valuable knowledge and we are looking for ways of developing them so that they can manage the new demands." Müller – Die lila Logistik also funds, among other things, an endowed professorship at the University of Applied Sciences for Technical Logistics Management in Heilbronn, training and qualifying its staff through internal and external training sessions. "For me, it's also about getting our staff to pass through different departments on a regular basis for fresh inspiration," says Müller.


TEAM SPIRIT FROM SPORT
Müller gets a lot of motivation and strength from sport. He is a passionate cyclist. From the company's headquarters in the Swabian city of Besigheim, he rides off to train on the roads in the surrounding area. In 2016, he even rode to all the company sites in Europe to mark the company's 25th anniversary. He is also involved in the "Lila Logistics Bike Charity Cup", a running event that sees hobby cyclists alongside prominent athletes on the starting line. The proceeds go to social projects for children. "I have always played sport and learnt an awful lot from it for my career," says Michael Müller, "you learn about winning and losing. You get to see what can be achieved through hard work and discipline; and it is also about team spirit and respect."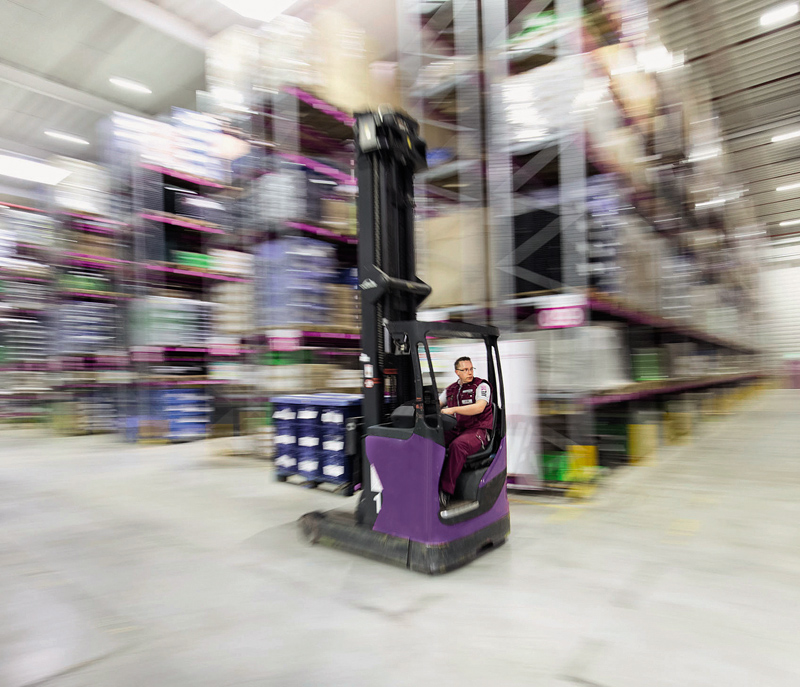 Photos: Roman Gemmrich, Müller – Die lila Logistik AG
Artikel empfehlen