Alfons B. Veer: The public transport system already offers a wide variety of services. But now you're also working with BerlKönig, thanks to the cooperation with ViaVan. How does this concept work, and what does it mean for urban mobility?

Henry Widera: BerlKönig is a ride-sharing offer that lets users share their location and their destination via an app. One of the fleet's people carriers then picks them up in just a few minutes at the nearest street corner. The main focus of our classic business is to transport Berlin's residents and visitors from A to B as efficiently and as comfortably as possible. BerlKönig clearly offers something above and beyond just this. Here in Berlin we have a wonderful, very well-connected public transport network. There are, however, still some areas which are not or not always so well-connected or which are missing specific cross-connections. I think it's important for our customers to be able to decide for themselves which mode of transport they want to use and when.

Alfons B. Veer: A very important catchphrase for Krone is 'driven by demand'. For us, this means that our customers have to get goods as close as possible to their end customers in fine distribution to make things convenient for them. Over the past few years, we've realised just how important the 'last mile' is in our portfolio. Logisticians in the cities need new solutions to handle extremely growing volumes. In addition to uniaxial city semi-trailers, Krone has been producing a CEP shuttle since 2010, and with the fully networked logistics concept Rytle we even go so far that our CEP customers deliver to the front door with professional cargo bikes.


PERSONAL PROFILE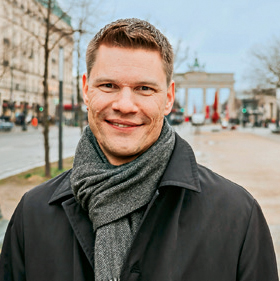 As Head of Digitisation at the Berliner Verkehrsbetriebe (BVG), Dr Henry Widera (b. 1983) is responsible for developing new sustainable mobility services, ranging from autonomous driving and mobility hubs to the on-demand ride-sharing service BerlKönig. The Doctor of Engineering worked as a consultant and in medical technology before joining BVG in autumn 2017.

Henry Widera: We're very familiar with the problems here in Berlin. The first parcel service arrives in the morning, the second at noon, and a third and fourth arrive in the afternoon. This all generates additional traffic on the roads. How does Rytle work?

Alfons B. Veer: Rytle GmbH was founded in the summer of 2017 with the goal of revolutionizing city logistics. The logistics concept created by experts, consisting of self-sufficient mobile hubs, electrically powered cargo bikes with exchange function for standardized Rytle MovR 25 transport boxes. The appropriate software platform is already in use worldwide. With the products, costs can be saved over the last mile and goods of any kind can be transported with virtually zero emissions – efficiently, punctually, quietly, stress-free, flexibly and transparently.

Henry Widera: I think there really is a lot of overlap in our industries. As the BVG, we're ultimately doing the same thing to move citizens around Berlin. We're working on so-called mobility hubs that will consolidate different offers such as shared bicycles, kick scooters and cars in central locations in the future, so that they can be booked virtually. Maybe the user will select the bike when the weather's nice, or if they've ordered a package to a vendor-neutral Paketbox, they can pick it up there. If it's too heavy to carry home, they can hire a shared car or cargo bike to transport it. That way users can put together the mobility mix that best suits them. We call this networked offer 'Jelbi'.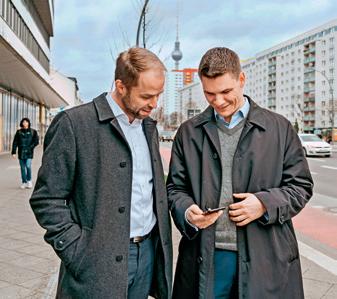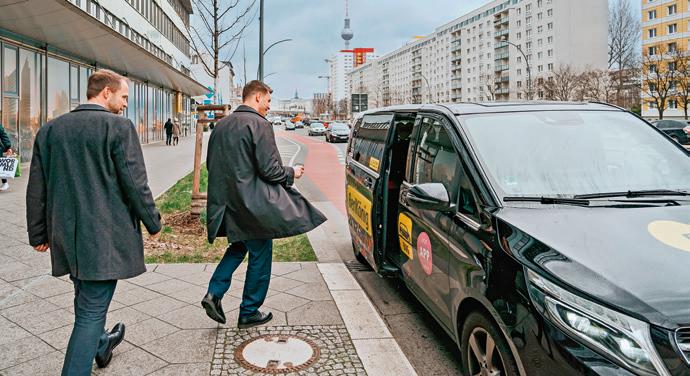 Using an app, BerlKönig can be booked by providing one's current location and the ride's destination. The system then selects a suitable ride from the vehicles which are currently en route. / The booked vehicle then stops at the nearest street corner.

Alfons B. Veer: The greatest potential for transport and the logistics of the future surely lies in networking generally. With Rytle, for example, we already have equipment in real use with customers in 25 European cities to validate the concept. Further 15 cities, such as in the USA and Canada, are currently being planned or implemented by customers. Our Rytle team therefore has strong network connections in the entire transport industry worldwide. We've received an astonishing amount of feedback via this channel. Furthermore, in cooperation with our agricultural machinery division, we founded a company called Datineo, in which we have bundled all our telematics and sensor technology activities. The team is active in the widest variety of industrial networks in order to tackle the topic of digitisation for commercial vehicles and agricultural machinery. What role does digitisation play for you as a municipally owned provider?

Henry Widera: I think it's just as important for us as it is for Krone and many other companies too. Digitisation is not just essential for us to develop the core business. It also gives us the opportunity to develop new business models and offers which otherwise would have not been possible just a few years ago. BerlKönig taps into our core DNA. We've been publicly transporting people in vehicles for 90 years. BerlKönig lets you share rides with other users. It may be public transport, but we're rigorously exploiting the opportunities of digitisation and expanding our transport range for all those in Berlin. Carrying a smartphone, that recognises my exact location, thousands of requests can be matched in real time and combined in the best possible way. Efficiency like this would not have been possible just a few years ago. How do your customers see things?


»We know that if the law changes the framework conditions for freight transport, our customers expect us to provide solutions to minimise the additional costs that arise.«



Alfons B. Veer,
Managing Director and Deputy CEO
for the Krone Commercial Vehicle Group




Alfons B. Veer: Efficiency is our customers' top priority. In terms of packages, freight charges are hardly paid any more, and as a result, little attention is paid to them. Cost pressure is even greater in the industry. Availability plays a big role here, every minute a vehicle is standing still means freight isn't being transported or deliveries aren't going to be on time. Digitisation has allowed us to take entirely new approaches to increasing the efficiency of processes. With Smart Scan, for example, we are now able to equip trailers with cameras that take pictures of the interior and, with the help of artificial intelligence, determine the available loading capacity at any time and link it to freight platforms. The driver is then presented with suitable freight offers on his route via an app so that he can make better use of his available capacities. With Krone´s Smart Trailer Check, the driver can take pictures of the trailer before each trip: artificial intelligence recognises damage on the pictures and can then inform the dispatcher. This increases the availability of the vehicles. As BVG, you're involved in the business of transporting passengers. But couldn't BerlKönig take packages too?

Henry Widera: As a municipal enterprise, it's important for us that the city remains one worth living in. And the question of how goods are transported here is of course vital. We've already hosted several events where we also asked thinkers, entrepreneurs and startups about how our infrastructure could be used to cover the deliveries of goods. There are multiple possibilities that can be thought of, and we're already getting to know them, but I don't think it's realistic in the near future. We're continuing to think ahead and are open to good solutions.


PERSONAL PROFILE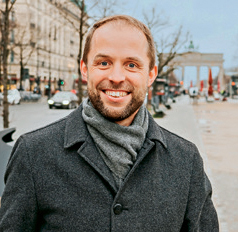 Alfons B. Veer, born 1977, has been Managing Director and Deputy CEO of the Krone Nutzfahrzeug Group since August 2018. He is responsible for strategy and program management (SPM), IT architecture, product management, project management and purchasing. The graduate industrial engineer and MBA has held various positions in the Krone Group since 2003.

Alfons B. Veer: Is BerlKönig just a test or is it here to stay?

Henry Widera: It's just an experiment for now. An offer of this kind and size has never existed up until now. It is completely new. And that's why we're learning something new every day. In the end, you have to see if the experiment was a success or if something else is still required to make it a success, and how you can develop it into a 'traditional' offer. Current user feedback is very good: 97 per cent of users like BerlKönig. This, of course, is a very good result that's pushing us on to expand this offer. How are things for you – you probably know exactly what your customers want and need?

Alfons B. Veer: Yes, that's right. At the same time, however, we are also pioneers in certain areas, anticipating major developments and driving them forward – for example, legally set CO2 restrictions, which are increasingly affecting the commercial vehicle sector. If the efficiency of the vehicles is not significantly improved, the industry will incur high costs. At Krone, we're addressing aspects such as aerodynamics, frictional resistance, tyre pressure management and the automatic refilling of air, etc. in order to ultimately create a complete package in collaboration with the manufacturers. We know that if the law changes the framework conditions for freight transport, our customers expect us to provide solutions to minimise the additional costs that arise. And that's what we're preparing for. What's your take on intelligent transport systems of the future?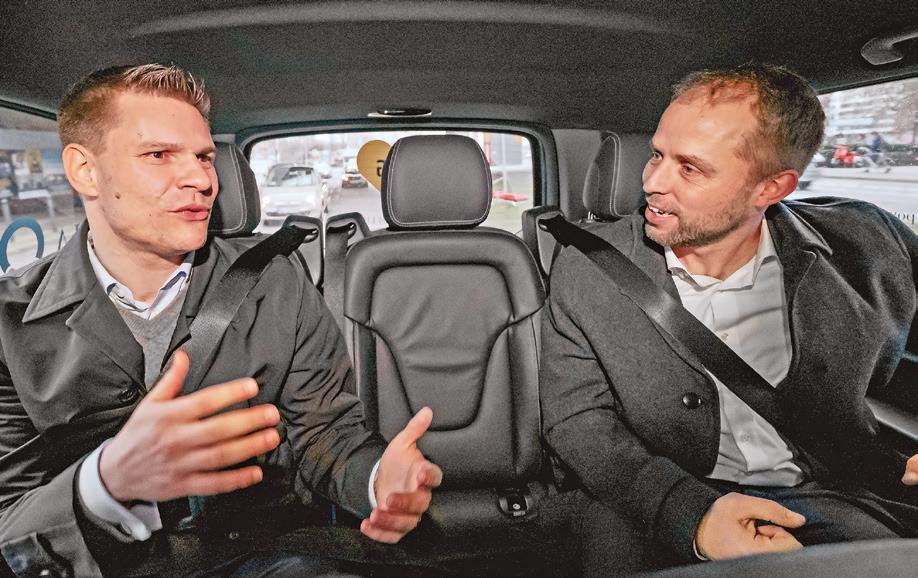 Henry Widera: In the end, we believe they've got to be electric. It must be ensured that several persons share one means of transport, which should also be partially capable of driving autonomously to allow it to be used at specific times or in areas that are difficult to reach.

Alfons B. Veer: The topic of 'electric' is a challenge when it comes to transporting goods, since our operations are based on load capacity and batteries are still quite heavy. The commercial vehicle industry is therefore exploring other types of drives, such as gas. Alternative drive concepts are the only way to fully meet the requirements of reducing CO2. Networking, or 'platforms', are crucial in transporting goods, to let us use the vehicles that are on the road in the most efficient way possible. Intramodality is also important to us. We've got a lot of vehicles on the road, but almost all of our products can go on other modes of transport – above all, boat or train. We're hard at work trying to guarantee that the transition between the various modes of transport runs as smoothly as possible, since the road system is not always the best solution.


Artikel empfehlen