Mercedes-Benz E-Actros has been part of the fleet for almost two years. Rainer Schmitt, Managing Director since 2012 of the company founded by his grandfather Walter Schmitt in 1948, is very satisfied with the electric 25-tonne truck: "Super in terms of pure driving experience, smooth acceleration and above all: no more noise!" The loudest thing about the E-Actros is the indicator, one of its drivers put it succinctly. In the meantime, the battery truck has already covered 60,000 kilometres without any notable complaints and is driving along as normal in the diesel fleet.


"The future is electric. That's for sure."



Rainer Schmitt




Schmitt primarily operates regional shuttle services for contract customers from the automotive industry – first and foremost Daimler and Porsche, but also for various suppliers. Sophisticated storage and transport logistics with large storage capacities for automotive parts were set up for them. The daily workload of the E-Actros is 250 to 300 kilometres, divided into twelve tours from the Schmitt warehouse in Ötigheim to the automotive plants in Rastatt and Gaggenau, to which transmission and axle components are delivered just in time to the production lines. For this workload, 30 to 40 minutes of intermediate charging three times a day at the company's own 80-kilowatt charging station is sufficient, while the goods are being loaded.


SUCCESS MODEL CONTRACT LOGISTICS

Logistics orders for the automotive sector today account for around 80 per cent of Schmitt's business, and more than 50 of the 80 trucks are used for this purpose. In the days of his grandfather and, to some extent, his father, Schmitt was still a classic transport company which drove, among other things, for the paper industry based in the nearby Murg valley and the Rhine plain. With the shrinking paper industry, there is now less going on than before – in retrospect, the entry into warehouse logistics has proved to be all the more fortunate. When a warehouse operator in the neighbourhood went bankrupt in 2003 and production at Daimler threatened to come to a standstill, Schmitt took on the job in short order. This was the beginning of the business relationship that still exists today.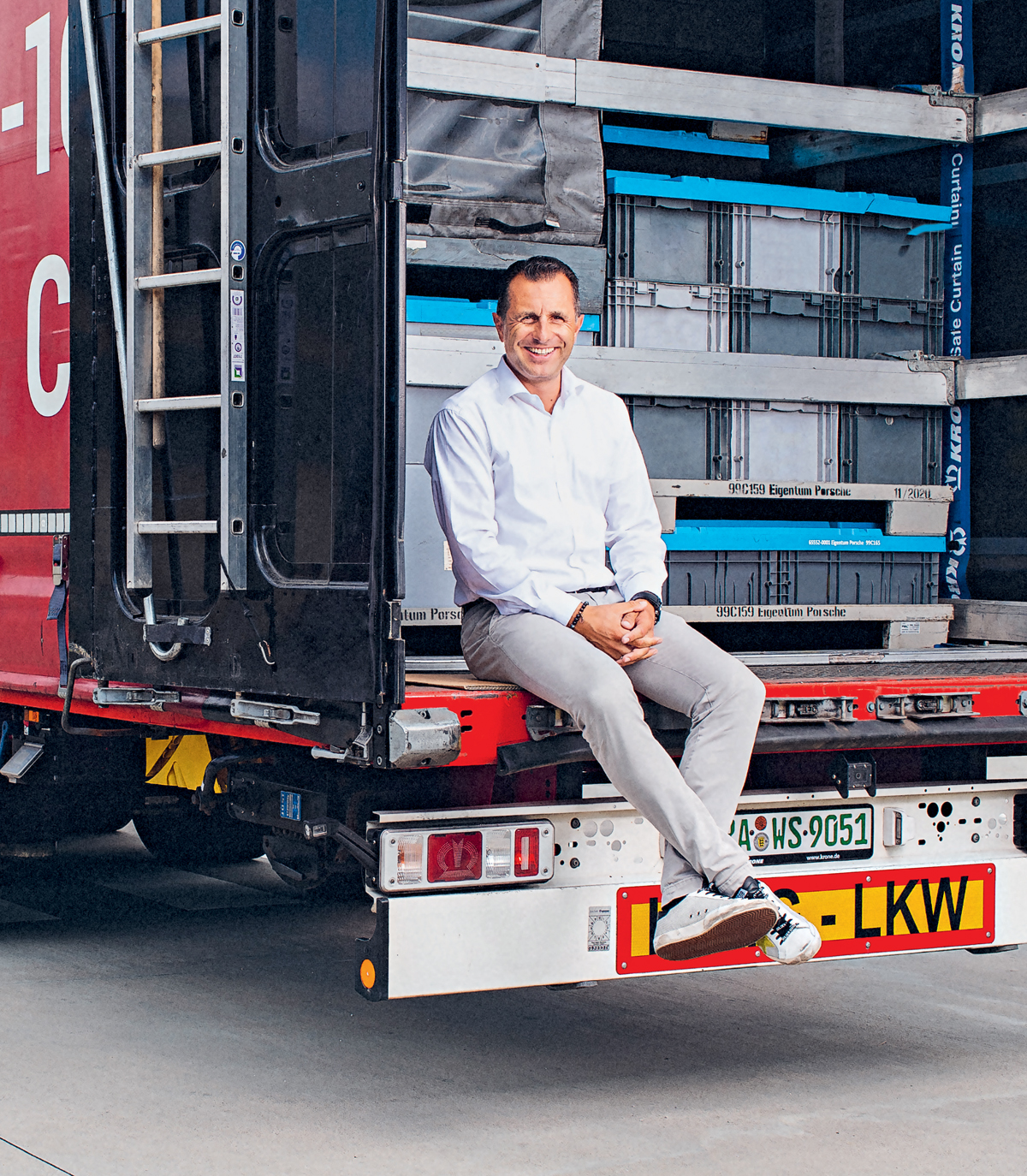 Since then, further warehouse locations have been added successively, some rented and some newly built. Today, the company manages 77,000 square metres of hall space at six locations. Schmitt offers its contract customers a complete service – from storage to picking and packing to transport on demand. This also includes the concept of product-specific transport solutions:

For Porsche, they developed a fastening system for the more secure transport of traction batteries for the e-model Taycan. "Actually, it's not a big order, but it has made us a household name in the industry," laughs Rainer Schmitt. Creativity was also in demand for another order, including for Porsche. This time, voluminous interior panelling had to be transported. Schmitt purchased six extra-long Krone Eurotrailers especially for this job. "With this, we only have to drive six times a day instead of seven and save ten per cent CO2 - that won over the customer." This is because customers are increasingly attaching importance to sustainability in the supply chain.


IT COMPETENCE IS CRUCIAL

However, contract logistics is not just about sophisticated route planning and smart storage and transport solutions. Rather, the backbone of this business model is an efficient, smooth data exchange with customers. "We now invest more in hardware and software than in new trucks and trailers," explains Rainer Schmitt. It is, therefore, a good thing that the second – non-family – managing director, Volker Klemm, has a background in business informatics. Of the family, brother Christian is also an authorised signatory in the company. He mainly takes care of the technology – from the trucks to the warehouses. The now 73-year-old father Max also drops by from time to time, but his role is "more advisory than that of a hindrance", Rainer Schmitt notes with a wink. "My father is not a patriarch, he let me get to grips with it my own way early on – I am very grateful to him for that."


PROFILE

About Walter Schmitt GmbH
Founded in 1948 by Walter Schmitt, the freight forwarder is today a Full Service Logistics Provider with around 300 employees and six branches along the Rhine from Mannheim via Karlsruhe to Rastatt. The company is headquartered in Bietigheim, Germany. The family business, now run by the third generation of Rainer Schmitt, specialises in contract logistics in the automotive sector.



He is also grateful to him for setting the right course almost two decades ago: "Contract logistics saved us," Rainer Schmitt is certain. This is because a pure haulage operation with a few trucks would hardly be worthwhile for a medium-sized company today because of the tough competition. "Only the really big players can do that, the others have to specialise," is his credo. "Our core competence today is the last mile – within three hours we deliver directly to the assembly line." Schmitt is proud of its loyal customers from the automotive sector; however, the Coronavirus crisis also revealed the problems in this regard. In March 2020, the assembly lines suddenly came to a standstill and Schmitt also had to close the factory – for the first time since the company was founded – for three weeks. It was not until the last quarter of 2020 that business returned to some degree of normality. Unfortunately, only until this spring, because suddenly semiconductors became scarce worldwide and car production stalled again.


A BROAD LINE-UP CREATES SECURITY

The fragility of global supply chains thus remains a challenge, quite aside from the Coronavirus. In addition, the automotive industry is on the verge of perhaps the biggest change of era in 100 years. "The engines and transmissions that make up a significant part of our loads today may soon no longer exist," Rainer Schmitt foresees. Of course, components for electric vehicles could then be transported, but he wants to play it safe and win over more industries in the contract logistics sector in the next two years. "Our focus is and will remain the automotive industry, but we want to give more weight to other industries again."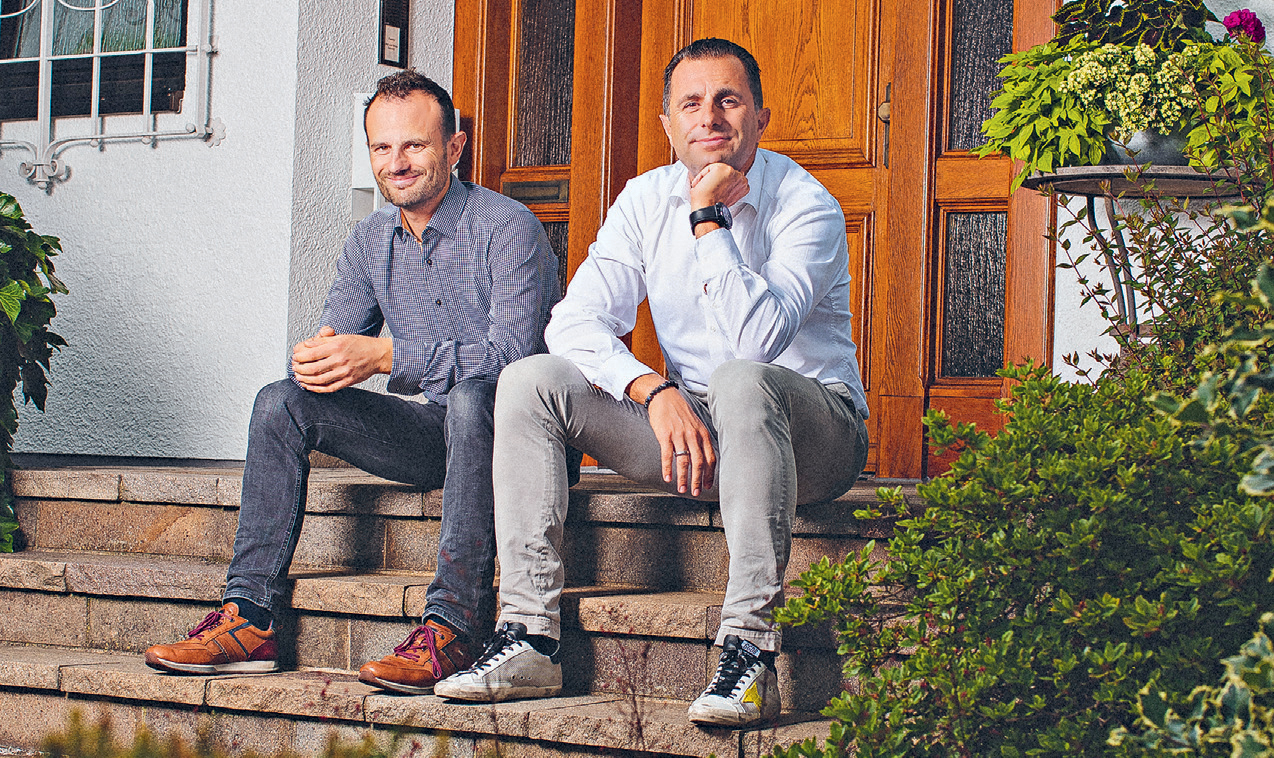 The Bietigheim-based logistics company also wants to remain at the forefront of electromobility. This includes participation in a pilot deployment of electric trucks in the neighbouring Murgtal, where trolley trucks are tested and compared with battery and fuel cell models. Rainer Schmitt is rather sceptical about the overhead line concept and will represent the battery faction with the E-Actros: "Our shuttles have to be flexible and, if necessary, also run detours – you can't do that with a fixed infrastructure." He can imagine converting half of his fleet to battery vehicles in the medium term. "There is hardly any workshop time and brake wear is reduced by 70 per cent because of recuperation." He is just waiting for the right time: The technology is developing rapidly; the series version of the E-Actros, which will be produced in the Autumn, already has twice the range of its current test vehicle. The e-trucks are also expensive. Nevertheless, there is no going back to diesel for Rainer Schmitt: "The future is electric. That's for sure."
Artikel empfehlen