ccording to Fritz Müller's motto, "There is a solution for everything". The haulier's corporate philosophy is also guided by the same passion to find new solutions to new problems. Müller is owner and managing director of Müller Transporte GmbH in Wiener Neudorf in Lower Austria and Fedl Kühllogistik GmbH in Kalsdorf in Styria. After taking over management in 1982 he gradually transformed a company that had started out as a small haulier in 1959 into a specialist in temperature-controlled transportation. And so Müller Transporte acquired the modern structures necessary for further growth. Today the company, which specialises in temperature-controlled food, pharmaceuticals and contract logistics, has more than 270 Euro 6 lorries and 300 trailers. It also achieved TAPA-TSR-2017 certification in March. Around 510 employees work at Müller.

In addition to the Austria-wide distribution of fruit and vegetables, Müller's portfolio also includes dairy logistics with tankers, as well as groupage transportation from the Benelux countries and Germany to Austria, Hungary and Slovakia. Müller delivers complete loads across the whole of Europe. Specially trained drivers and telematics-monitored lorries are used to transport pharmaceuticals. Müller also conducts complete outsourcing projects for his customers.

In 1989 the company moved to the current site in Weiner Neudorf, just off the A2 Südautobahn, where it built a company car park for more than 200 lorry trains, semi-trailers and drivers' cars. Working closely with a consultant, Müller gradually implemented further modernisation measures. His approach respects both tradition and progress, but without pursuing an aggressive expansion strategy. "My willingness to embrace change focusses more on new working methods and technologies, which we must develop and utilise if we are to stay in the game."

PERSONAL PROFILE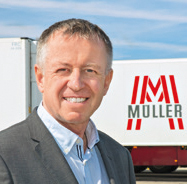 2009 brought fundamental changes in personnel development, IT, cost accounting and public relations. The point of this exercise was to successfully decouple drivers and lorries, which meant sacrificing a sacred cow: today there are no longer 'regular' lorries for drivers at Müller; instead, the forwarding agent dispatcher and the driver dispatcher stay constantly in communication, organising shipments. Unlike other fleet management, Müller drivers have a different, individually prepared, well maintained and thoroughly cleaned lorry for each journey. "This is the only way to ensure the lorries remain on the road while the drivers keep to regulated working hours," explains Müller, who opened his eighth branch in Salzburg in April. "We wanted to place stronger emphasis on western Austria and southern Germany." Until now his working radius was within the Vienna – Graz – Hörsching triangle, where Müller operates a warehouse.

Since October 2014 Fritz Müller has also been sole owner of a refrigerated logistics firm originally established jointly with the Styrian haulier Johann Fedl. "We had the capacities, and Fedl the know-how, as well as the prime location."


TOP QUALITY DEMANDS FIRST-CLASS EQUIPMENT

Müller relies on two fundamental elements for the temperature-controlled handling of highly sensitive goods – its own personnel and its own equipment. For the latter the company relies increasingly on refrigerated semi-trailers from the Krone Commercial Vehicle Group.

In recent years the two firms have developed an increasingly close partnership based on mutual respect. "We regard Müller as an important refrigerated haulier and innovator in Austria," explains Krone Managing Director Frank Albers. In turn, Müller values Krone's direct market presence in Austria through its three field sales personnel. The maintenance and repair service – a particularly important aspect of refrigerated fleets – also ought to function smoothly and free of red tape.

So what could be better than bringing Fritz Müller on-board as a Krone test partner as a champion of disruptive technologies? The development of Celsineo – a joint brand of the family companies Krone and Liebherr – offered a good opportunity. In addition to technical development, for both partners it is important to test and refine their product in practice. "Ultimately we shouldn't be modelling existing systems, but reinventing refrigeration technology," emphasises Albers.

Müller achieves this perfectly with the three-module idea. He sees particular benefits for the haulier in customer service. "Thanks to the plug-and-play principle the on-site service no longer needs refrigeration engineers, which makes the equipment much simpler and cheaper to repair and maintain."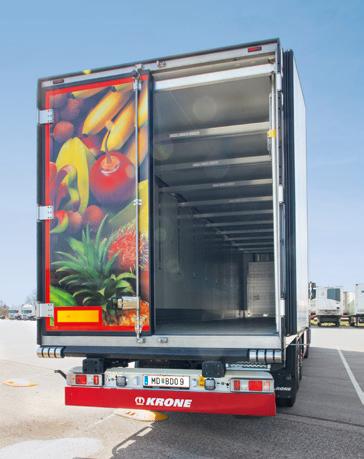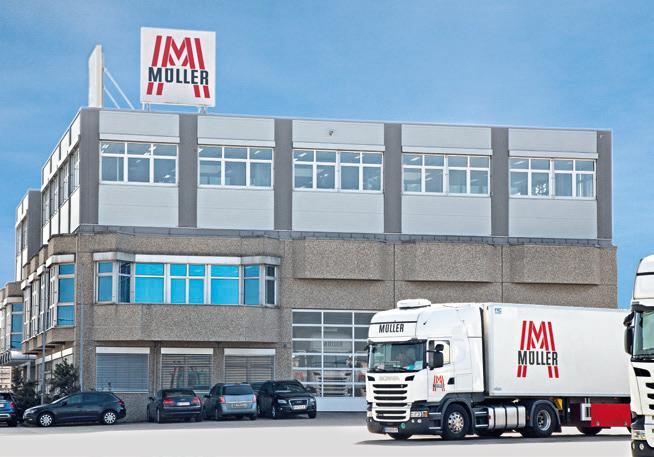 Reliability and quality – there's a reason why Fritz Müller relies increasingly on Krone refrigerated semi-trailers.
SYNERGY EFFECTS THROUGH COMPLEX IT
"In this day and age customers and employees rarely benefit equally from company restructuring," says Müller, whose company owes its success to an inhouse developed process and IT system. Acting behind the scenes, the company manages the interests of the freight forwarding business and vehicle fleet division in a way that improves the working conditions for employees at the same time.

Müller collaborated with Acon (a Vienna-based consultancy firm specialising in process optimisation in production operations) to implement the individual components, e.g. driver accounts, availability management and consumption control.

For driver navigation Müller relies on proven telematics, as well as innovative satellite systems. These produce a lot of useful data. But what must be done to process the data in an even more interconnected, and thus more effective, way? For example, will lorries search out their own partial loads in the foreseeable future? "That remains a fantasy at the moment," admits Müller. "But I certainly already possess the readiness for change." If everyone involved could avoid going their own way and looking for the solution on their own, he could well imagine a digital and automated interaction of various platforms, hauliers and forwarding agents in the next few years. An even tighter reduction of empty or partially empty runs would be paramount – especially at a time when commerce and industry are increasingly driving logistics.


HUMAN RESOURCES
Lorry drivers are a precious commodity. From Müller's perspective, their well-being also depends on things that are not necessarily money-related. For example, his drivers enjoy free overnight stays in hotels when driving times and rest periods do not allow them to return home, since, unlike other hauliers, refrigerated semi-trailers are on the road seven days a week. "Only in exceptional cases where there is no economically viable alternative do our drivers spend their 45-hour rest period in the vehicle," emphasises Müller, who thanks to his balanced management style has no difficulty in making a persuasive case for change.


Photos: Gregor Schweinester
Artikel empfehlen