wo swap bodies, each 7.45 metres long, on an extended semitrailer – this is possible with the new Swap Liner from Krone. The freight forwarder Kombi Fracht, based in Lower Saxony, has been testing this type 1 long vehicle combination for DHL since the autumn of 2020. Overnight, parcels are shuttled from Hamburg to Cologne and back again. "The impetus for this project came from DHL", reports Michael Henschel, Managing Partner of Kombi Fracht. "We approached Krone with the idea and asked if they could build such a vehicle for us. They quickly agreed, dived straight into planning, and six months later it was ready."


GREATER FLEXIBILITY IN COMBINED TRANSPORT
As an alternative to the articulated truck, the Swap Liner increases the options for use in combined transport. This is also the vehicle's biggest advantage for Michael Henschel: "Nothing has changed about the fact that we transport two swap bodies – we do the same with the tractor-trailer setup. But we are more flexible because we can also use a semitrailer at night instead of a swap body vehicle", says the entrepreneur. Kombi Fracht works for all leading logistics companies, with a focus on the automotive, steel construction, packaging and beverage sectors.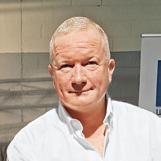 "We approached Krone with the idea and asked if they could build such a vehicle for us. They quickly agreed, dived straight into planning, and six months later it was ready."


Michael Henschel,
Managing Partner of Kombi Fracht


1.5 LITRES OF FUEL ARE SAVED PER 100 KILOMETRES

In 2020, the maximum permissible overall length of the vehicle combination was raised from 17.80 metres to 17.88 metres. Krone developed the new Swap Liner to fit two swap bodies and a total permissible weight of 40 tonnes. The vehicle has a hybrid frame neck that allows for a greater payload with a height of 85 millimetres, while remaining in strict compliance with the maximum overall height. When the truck is being loaded, the frame neck guides the swap bodies, and special insertion skids ensure that the containers are precisely picked up and aligned. The High Speed Stability Programme improves handling by extending the virtual wheelbase. What is more: the Swap Liner saves approximately 1.5 litres of fuel per 100 kilometres of travel.

LONGSTANDING COOPERATION WITH KRONE

"We have been working with Krone for many years and have been looked after by the same Regional Sales Manager, Ralf Untiedt, from the very beginning", says Michael Henschel. "That was already the case before I joined the company in 2007. When you rely on one supplier for such a long time, it naturally builds on quality and reliability. Krone is true to its word – and I like that. And the price-performance ratio is spot on." Kombi Fracht has also implemented individual projects with Krone in the past: "We were the first to have a Mega Liner with a Coil well. We can use it for our automotive customers and still transport steel coils with it."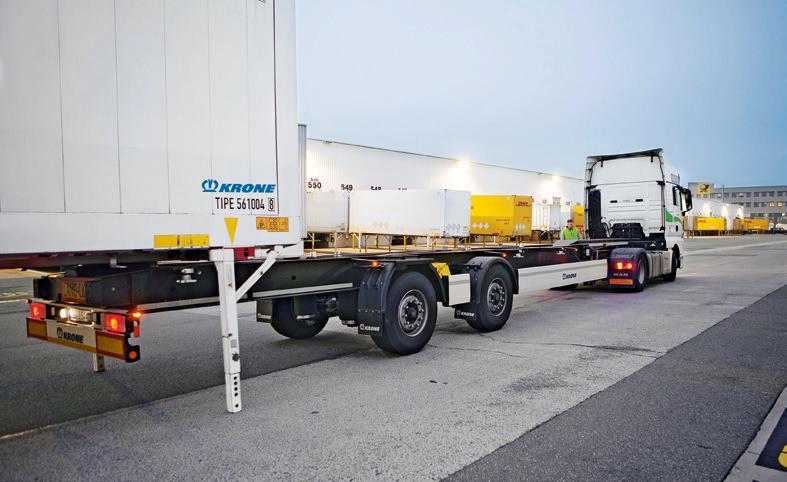 CORE COMPETENCE IN SYSTEM AND CHARTER TRAFFIC
The company Kombi Fracht was founded in 1988 and initially served the combination transport stations in Bremen and Hamburg. In 1996, it took over the fleet of Fiege Logistics in Bremen and expanded in the following years through its acquisitions in Hamburg, Rostock and Berlin. From the turn of the millennium, Kombi Fracht expanded its core competence in the areas of system and charter transport, and the fleet underwent significant growth. Since 2017, it has also been certified according to ISO 9001:2015 and 14001:2015.

Kombi Fracht is also finding it difficult to bring in new blood, especially among drivers. "We are really concerned that it is becoming ever more difficult to inspire young people to take up this profession", says Managing Director Michael Henschel. "The number of apprentices has consistently declined in recent years." The company, therefore, now relies on radio advertising in its search for young talent, and it also wants to attract applicants through video messages placed on social media.

www.kombifracht.de

EASIER AND FASTER HANDLING
The test with the Swap Liner for DHL continues to run smoothly – as it has done right from the start. "Handling is easier and faster", says Henschel. "The bodies just have to be stood together in a sensible manner when they are taken up. But the colleagues on site quickly figured that one out. And there were no other issues either." He hopes that the Swap Liner will be allowed to be used in the long-term: "For us, of course, it would be best if we were allowed to drive it beyond the legal limit of 2023." After all, this is also appealing from an ecological perspective. Kombi Fracht is committed to environmental protection and is currently testing a gas-powered truck, for example: "It is very difficult to find neutral advice and support on this topic. That's why we're now just trying out the technology for ourselves and seeing how it performs." The Swap Liner from Krone is already proving its worth in tests with DHL. If Michael Henschel had one wish, it would be: "In the long-term, free reign for the Swap Liner so that we can continue to work flexibly with it!"
Artikel empfehlen