eeping you on the move: Krone Fair Care", explains Sebastian Dust, Head of Full Service for the Krone Commercial Vehicle Group, in the company's new campaign, which will be presented at the IAA Commercial Vehicles 2018. More precisely: Sebastian Dust has written down the important added value of Fair Care by hand - because like all Krone employees, his name stands for the proven quality of the brand. At the same time, the products and services bear the hallmarks of these people, who put all their energy into offering customers more every day. Sebastian Dust is one of the brains behind Fair Care - a service from Krone in which five flexible service modules for maintenance and repair can be combined.


TRANSFORMATION INTO AN ALL-ROUND SERVICE PROVIDER
Krone's role in the commercial vehicle industry has changed dramatically over past decades: The company has grown from a pure vehicle manufacturer to a service provider for all aspects of commercial vehicles. In addition to practical innovations, the portfolio today also includes comprehensive service packages, financing options and telematics services. All products and services are completely tailored to customers and their requirements in everyday practice. They offer real added value that makes transport more efficient and thus, customers more successful.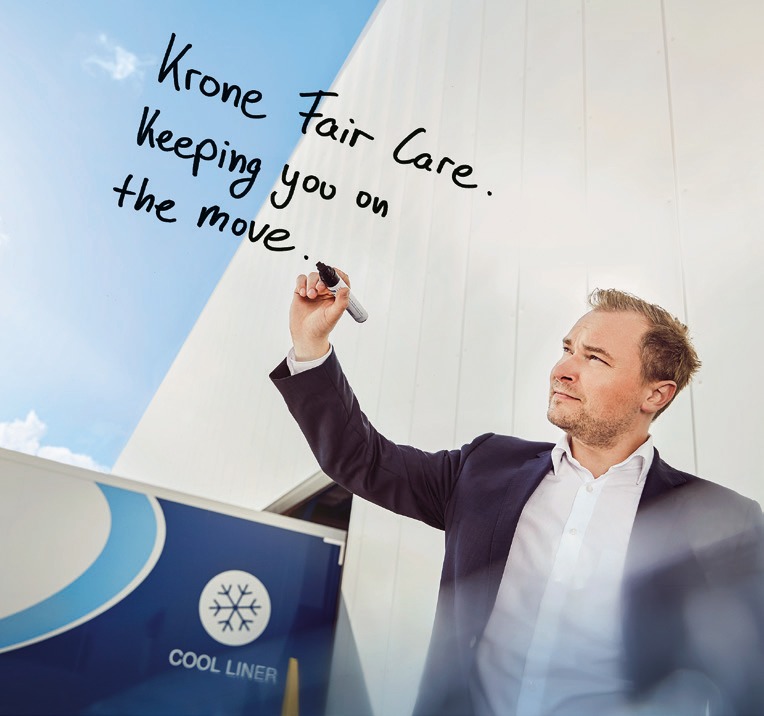 FULL SERVICE



Krone offers services for hauliers on the best possible terms: Fair Care combines five flexible service modules for maintenance and repair of body, chassis, refrigerator and tail lift. It also covers the wear-related replacement of tyres. Forwarders optimize investments and overall operating costs (total cost of ownership) and reduce unscheduled downtime.

A Fair Care maintenance contract from Krone is available with variable terms. The calculation is flexible and according to the customer's wishes, on the basis of operating hours, mileage and contract periods. Fair Care is based on a reliable network of certified Krone service partners. Their connection to a digital processing system guarantees fast, immediate help anytime, anywhere and reliable service. Fair Care reduces maintenance and repair-related downtime to a minimum - and the core business of the freight haulier benefits from this.


POWER OF SERVICE AND KNOW-HOW

With the new campaign, Krone underlines how customers can benefit from the extensive range of services and responsible employees of the company explain personally, the most important advantages. Besides Dust, this, for example, includes Markus Jaspers. As head of spare parts service, he is the godfather of Krone Spare Parts. The efficient spare parts service ensures free travel at all times: In the modern online shop, customers can order the right spare part directly and quickly for each vehicle by referencing the vehicle number or QR code. Since last year, Krone has been operating a new spare parts centre at the Herzlake site, which ensures prompt and reliable supply. Markus Böhmann, Head of Sales Financing, is a contact person with sound financial, property and industry knowledge and enables tailor-made financing models such as leasing, hire purchase and investment credit. Show them all: Buying a"crown" means getting more than just a trailer - you get all the power from the service and know-how of this special brand.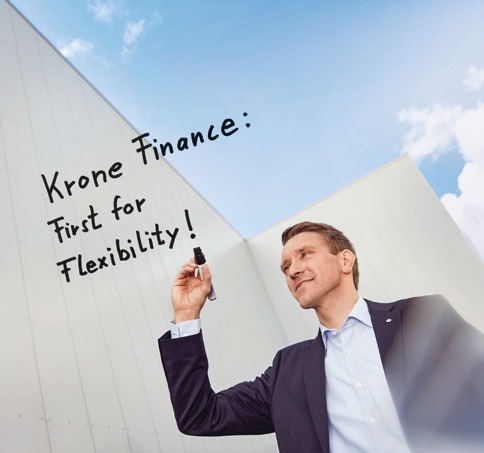 Artikel empfehlen