hen a ferry company consistently wins the "Europe's Leading Ferry Operator" award at the annual World Travel Awards (the Oscars of the travel and tourism industry), it must be an exceptional operation. DFDS has already won this award 12 times in a row. In addition to logistics services, the group, headquartered in Copenhagen, offers its customers ferry services mainly in the North Sea and Baltic Sea, and since June 2018, between Europe and Turkey as well. With a fleet of more than 50 vessels, the ferry division operates a large number of liner services between Belgium, England, France, the Netherlands, Denmark, Germany, Norway, Sweden, Estonia, Lithuania and the Mediterranean. 5.3 million passengers use the crossings every year – not simply as passengers, but often for the purpose of leisurely mini-cruises, or group trips, with spacious cabins and the best catering.


38 MILLION LOADING METRES IN 2017
Not all ferries have passenger capacities, however and the rolling cargo stowed on the cargo decks of the ferries below the passenger decks is even more important for the turnover of the publicly listed group: According to Shipping Director Peder Gellert Pedersen, DFDS was able to sell almost 38 million loading metres in 2017. In other words, if the cars, lorries, buses and trailers that the ships carried over the last year were lined up, the line would almost extend around the entire equator. Cargo and passage together generated a turnover of 9.9 billion Danish kroner, which is equivalent to around 1.3 billion euros.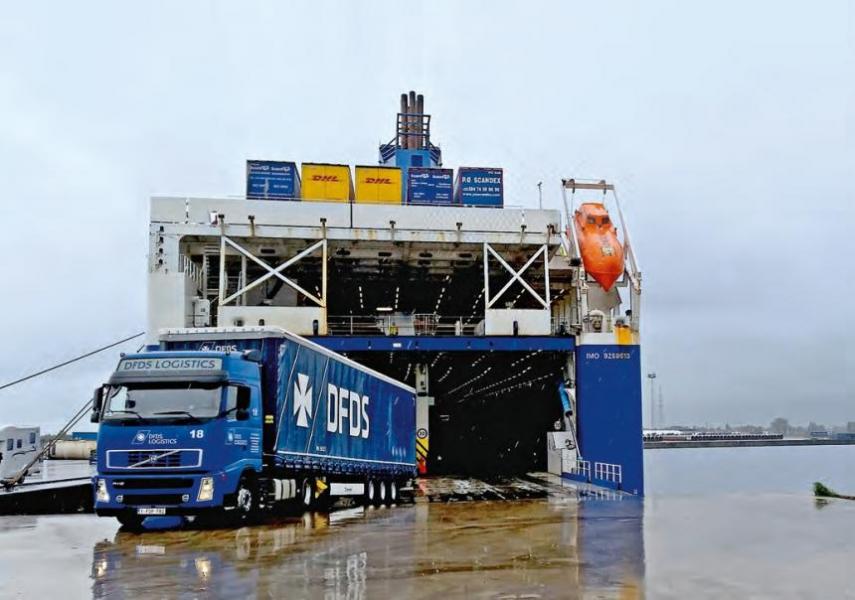 A GROUP THAT'S STEEPED IN HISTORY



DFDS stands for "Det Forenede Dampskibs-Selskab" (literally "The United Steamship Company"). The company was founded by a group of Danish business people on 11 December 1866. At the time, the fleet consisted of 19 ships. Today, DFDS is Denmark's most important maritime player, alongside Maersk (the world's leading container shipping company) and is listed on the NASDAQ OMX Nordic at the Copenhagen Stock Exchange. Freight transport and logistics generate 80 percent of the group's turnover, while passenger operations generate 20 per cent.

www.dfds.com

The ten North Sea freight routes really stand out on the balance sheet: "Cargo volumes in the North Sea alone grew by almost eight percent in 2017, and that's despite the delayed Brexit agreement between Great Britain and the EU," reported DFDS CEO Niels Smedegaard. He remains optimistic about the future: "In its official forecast for 2018, the British government expects economic growth of just over one percent. We are currently seeing an even higher rate of increase in exports, which of course continues to contribute to the positive development of our North Sea routes."


FIVE NEW MEGA FERRIES

To be prepared for the expected volume growth in the coming years, DFDS has now ordered four new mega ferries for North Sea and other transport operations from a shipyard in China. Each one has a capacity of around 450 trailers and over 6,700 loading metres. The first two ships are scheduled to enter service as early as 2019, with three identical units to follow in 2020. Each one will be 235 metres long and 33 metres wide and be able to reach a maximum speed of 21 knots (or around 38 kilometres per hour). The ferry company is doing away with extensive facilities for passengers on these new vessels; only a few lorry drivers will have cabins on board. "This is our response to the trend that many carriers are increasingly only using unaccompanied trailers instead of complete truck-trailer combinations in Great Britain. One reason for this is the increasing shortage of drivers," says Smedegaard.

DFDS also has ambitious plans in its second home territory, the Baltic Sea: In February 2018, the ferry company ordered two XXL ferries for the Kiel-Klaipeda and Karlshamn-Klaipeda routes. They are also being launched from China, but are slightly smaller than the new vessels for the North Sea. The vehicle decks have over 4,500 loading metres which can be used, not only by trailers, but also by cars and buses: there are 250 cabins for up to 600 passengers on board. "This will increase our capacity in the Baltic Sea region by 30 percent. The new ships will be the largest of their kind there," said enthused CEO Smedegaard. "This investment reflects our commitment and optimism for continued strong development in the Baltic Sea region. At the same time, we are also improving the efficiency of our route network from an ecological point of view." The first ferry is scheduled to go into service in the spring of 2021.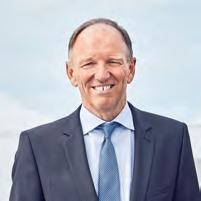 "We are investing in around 1,000 different new trailers and containers."


Eddie Green,
Executive Vice President Logistics Division




At the beginning of this year, DFDS also embarked on the road to expansion in the Eastern Mediterranean: It acquired the Turkish ferry company UN Ro-Ro for 950 million euros, which transports lorries and trailers, both with and without tractor units, as well as containers on five routes between Turkey and EU countries. The twelve ships that UN Ro-Ro operates there are very similar to those used by DFDS in Northern Europe; some of them even come from the same shipyard in Flensburg.


ORGANIC GROWTH AND ACQUISITIONS

The four prominent letters 'DFDS' are not only visible on dark blue ship sides or waving flags on the signal masts. They also adorn a large fleet of containers and a wide variety of trailers. These are part the second major division of DFDS, also known as Logistics Services: this division offers transport and logistics services primarily for manufacturers of industrial goods, foodstuffs or forestry and paper products. It also oversees supply chain management and the operation of logistics facilities. Logistics Services uses road, rail and, of course, the group's own ferry fleet for transport operations. In 2017, turnover was at around 700 million euros – that's five percent more than in the previous year.

The expansion strategy is to be realised, not only through organic growth, but also through acquisitions: It wasn't until January 2018 that the logistics group expanded its network by acquiring Dutch transport company Alphatrans. "The acquisition primarily focused on special transportation with platform trailers and other equipment for long materials," says Eddie Green, Head of the Logistics Division, when explaining the takeover. "Alphatrans particularly complements our logistics offering for transport operations between Great Britain, Ireland and mainland Europe, not to mention Portugal." Alphatrans has around 200 employees and generates an annual turnover of 45 million euros. The fleet includes 720 platform trailers and 125 lorries.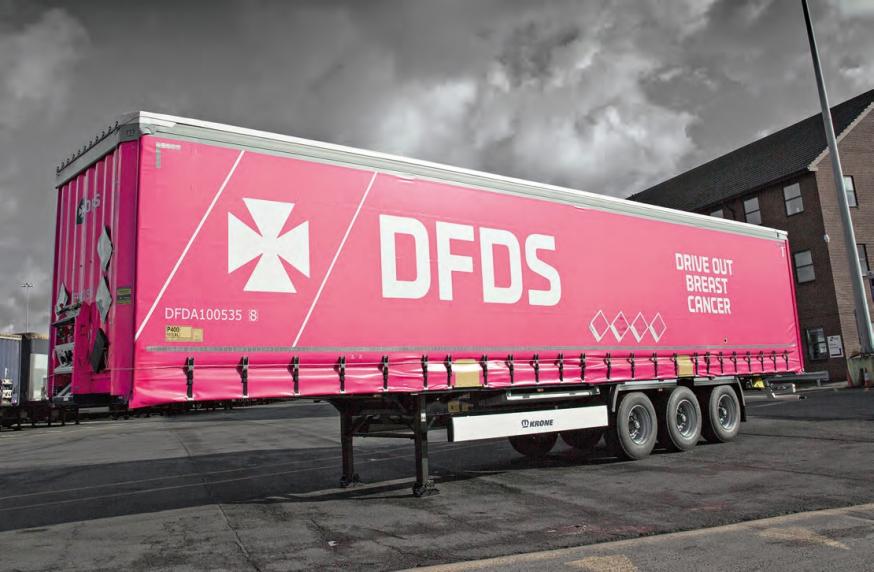 Logistics Services is also pushing ahead with the expansion of its own equipment. Since mid-2017, the largest trailer investment programme in the history of DFDS has been in motion: "We are investing 22 million euros in around 1,000 different new trailers and containers in order to keep up with growing business operations," Green explains. Some of the acquisitions are replacing older units, but will mainly ensure that stock grows. DFDS has an overall pool of 6,000 trailers and 3,000 containers. Many of the rolling units come from Krone; they are mainly Profi Liners, but also Dry Liners, Cool Liners, TIR Liners and Mega Liners.


2,000 KRONE TRAILERS IN FIVE YEARS
"In the past five years alone, we have delivered more than 2,000 trailers to DFDS," reports Jason Chipchase. The Key Account Manager at Krone for Great Britain is the first point of contact for DFDS logistics specialists. "There are many reasons for our high market share. We are not only able to deliver many vehicles in a short time, but we also implement customer- specific solutions." After all, intermodal applications and all of the associated transfer activities at the terminals demand a lot of trailers: "Reinforced inner floors, numerous external protective systems or even the extended stabiliser jacks increase the service life of the trailers and reduce downtime," said Chipchase. "And if something does happen to break, DFDS can rely on our fast support. That's real teamwork!"

Some of the Krone trailers are also equipped with a comprehensive telematics system which, in addition to the kilometres covered, also monitors the location, payload weight, maintenance status or tyre pressure and transmits this information to the headquarters in Immingham. The rear doors can also be opened using a remote. One particularly special trailer also benefits from the Krone telematics system: It doesn't come, as is usual in the DFDS fleet, in smart dark blue or white but in a striking shade of pink: With each route covered, this trailer collects money for a breast cancer awareness campaign that is supported by DFDS. Jason Chipchase "In tracking the donation miles, the Krone telematics system is simply invaluable."


Artikel empfehlen