o such thing as impossible!" is an oft-cited maxim that actually forms part of the company credo at Spedition Amm. The logistics experts based at Nuremberg's Cargo Handling Centre ("Güterverkehrszentrum") have been successfully applying this motivational slogan to a wide variety of business fields for decades. In addition to general cargo and distribution transport, container logistics, combined transport and classic long-distance transport, the family-run group of companies also provides logistics services.

Complete services – from container transport from the seaport, to the complete handling of warehousing and warehouse logistics, to repackaging, labelling, shipping or returns management – are all mastered by the Franconian logistics experts with just as much sophistication and skill as a regional butcher deploying his sausage expertise. Things are also moving at a comparable pace at the company's locations at the port situated on the Rhine-Main-Danube Canal. Goods handling in XXL format takes place in an area spanning roughly 140,000 square metres for block storage, as well as over 60,000 pallet spaces and 30,000 square metres of open space. Up to 20,000 shipments leave Amm's logistics warehouses every day. 550 employees at the Nuremberg site alone – as well as 200 employees at other sites and roughly 350 self-driving subcontractors and temporary workers – all help to ensure that the company motto can be lived up to every day.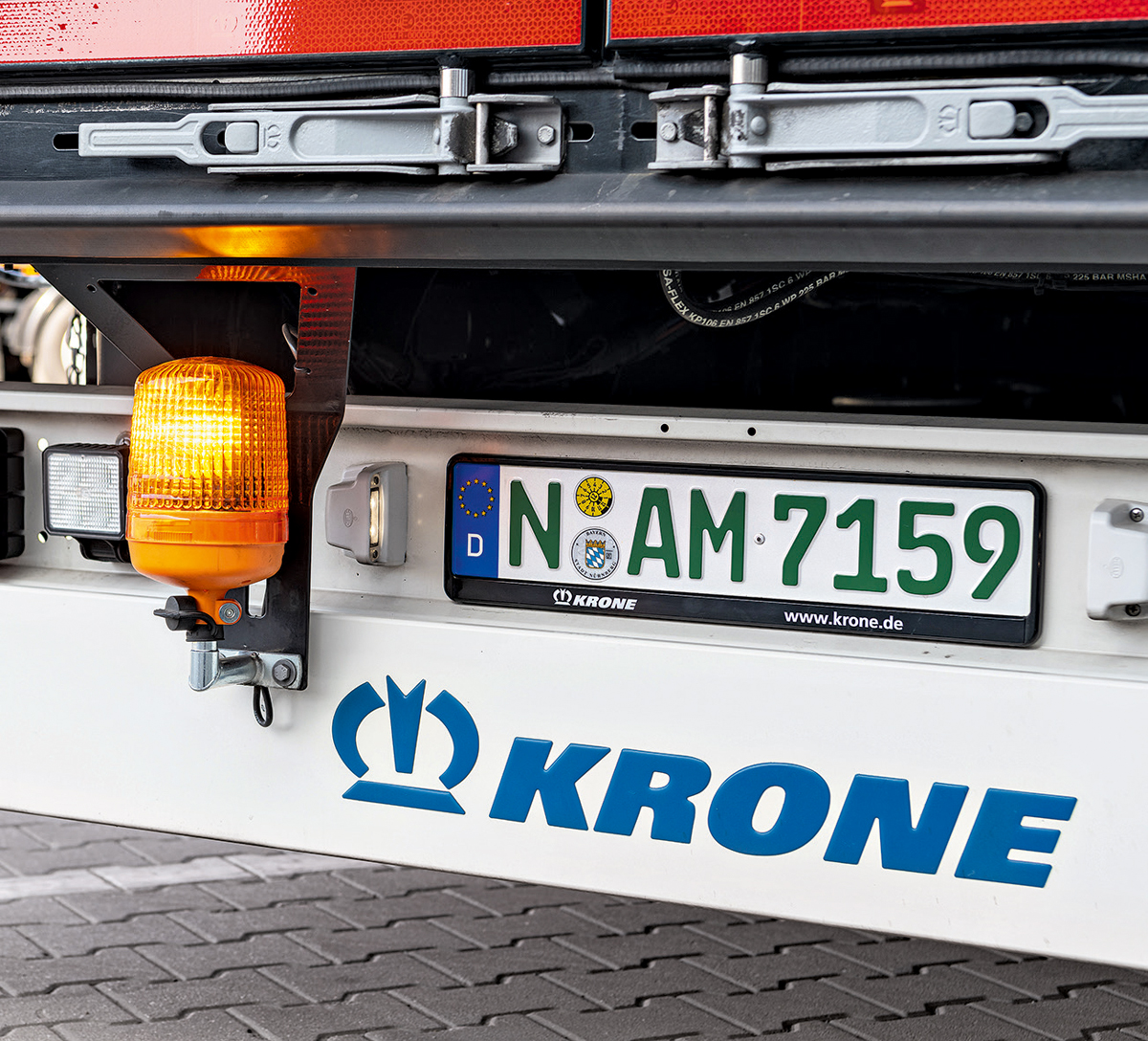 With a focus on trade distribution and online business, the company has made good progress in 2020 – a year marked by the Coronavirus crisis – and has been able to achieve continued growth; it's not just the management team that is delighted. For Ralf Amm, owner and managing director of the Amm Group, the focus is not only on maximising transport value but also on flexibility and partnership. The 51-year-old entrepreneur is not only referring to his dealings with customers, but also with suppliers and employees. Together with co-managing director Alexander Richter, who – himself a transport entrepreneur – joined Amm in 2013 and gave the logistics business a real boost with many new ideas and customers, Ralf Amm manages the overall package of transport, logistics and services with ever-growing success. Approximately 200 trucks leave the company premises every day to deliver on time to customers, such as large discount stores, which are predominantly located in southern Germany and neighbouring countries.

This is also how Alexander Richter sees things, a man who spends his working day mainly in overalls as opposed to fine threads. "Being able to respond to almost all customer requests at short notice is one of our strengths", reports Richter, "We don't form working groups, but rather can react with great flexibility!" For Ralf Amm, the owner-managed company structure – in combination with strategic alliances such as its membership to the Cargoline network – is also a key to the lasting success of his group of companies. "We don't think in terms of annual results or short-term success, but rather in the long-term", explains the son of the company's founder, Fritz Amm, who started the freight forwarding business in 1966 in the municipality of Schwaig the classic way – with one distribution truck. "As a medium-sized company, we are used to making quick and informed decisions."



"As a medium-sized company, we are used to making quick and informed decisions."



Ralf Amm,
Owner and Managing Director of Spedition Amm




The partnership that underpins everything at Amm and working life for its employees has proven itself to this day, even in times of strong growth. Consequently, when it comes to vehicle procurement, you rely on partners who are not interested in short-term sales results, but in long-term cooperation. In addition to high-quality tractor units originating from Swedish production, the managers at Amm have been relying on trailers from Krone for years. Regional Sales Manager Johannes Bründl, who has been looking after Amm for just under two years, can rattle off some good arguments for making purchase decisions exclusively in favour of Krone: "We are the only supplier that can actually serve Amm's entire requirements profile – from container and swap body chassis, to dry freight boxes and Mega Liners!"

Around ten per cent of Amm's fleet of 400 towed units are low-deck vehicles. Transport orders from Deutsche Bahn – primarily for the transport of wheel sets – require special trailers such as 100 cubic metre capacity Krone Mega Liners, which can accommodate the bulky and heavy cargo thanks to a rear section that can be widened by 500 millimetres, as well as a lifting roof for three metres clear internal height. Amm has its own 16-tonne forklift truck for many special transport operations, which can handle the loading at the customer's site itself.

Alexander Richter, who, as a seasoned expert, understands exactly what is required of both man and machine, trusts Krone trailers. "The robust chassis, a high-quality paint finish, the workmanship of the vehicle floor and the quality of the Krone axles are what won us over!", explains the logistics expert. From his point of view, however, it also speaks in favour of the premium manufacturer that Krone employees react quickly to vehicle enquiries: "When we call Johannes Bründl with a request, we have an answer within an hour!"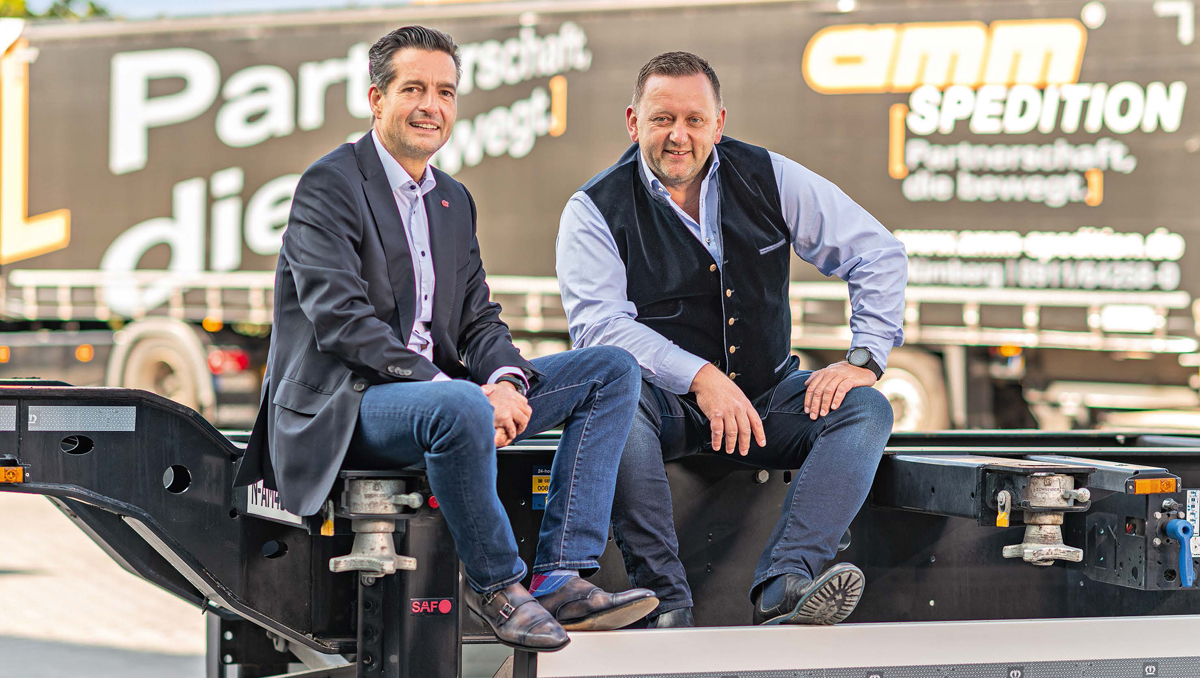 The drivers are also satisfied with the high-tech Krone trailers behind their high-quality tractor units. After all, the daily handling of trailer doors, tarpaulins and load securing has a considerable influence on a driver's enjoyment of the product. The numbers involved are also convincing: The easier and more hassle-free a load exchange is, the more satisfied the driver is with the vehicle and the more careful he is with it. This applies to the discreetly branded tractors in the characteristic Amm colours, as well as to the trailers, which boldly carry the catchy company motto of "Partnerschaft, die bewegt" ("Partnership on the move") when on the roads.

At Amm, taking this partnership approach to drivers is not just due to the fact that there is a severe shortage of qualified driving personnel today. Given their customer-facing role for the company when out on the road, the drivers play an important role from the perspective of Amm management. Work clothing provided by the company ensures a neat, uniform appearance, while joint leisure activities and even a newly established fitness centre complete with prophylactic back training are examples of how the driver's job is recognised as an important component of the company's success. Amm also handles the forklift training and the professional HGV driving qualification – right up to the attainment of an HGV driving licence – in its own driving school. By offering training to become a professional driver at the Amm Transport Academy, the company is also trying to recruit its own young drivers, even if the conversion rate from student to permanently employed driver is currently rather low at just ten per cent, explains Alexander Richter. However, in the long-term, the company's motto of "Maximum vertical integration generates maximum flexibility" also applies.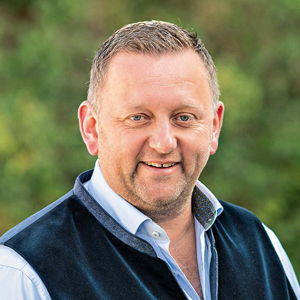 "When we call Krone salesman Johannes Bründl with a request, we have an answer within an hour!"



Alexander Richter,
Managing Director of Spedition Amm




In order to ensure precisely this degree of flexibility in its customer operations, Ralf Amm is at present increasingly purchasing his own vehicles once again. The main reason for this is securing his company's ability to supply customers. "In recent years, there have been times when you couldn't get a truck at short notice", says the entrepreneur. The company's own young vehicle fleet – with an average age of between two and three years and Euro 6 throughout – not only contributes to sound economic efficiency but also to the sustainable improvement of the environment. However, Ralf Amm sees life beyond diesel propulsion only in the form of hydrogen power in trucks. Until then, the company will stick to conventional but state-of-the-art vehicle propulsion technology, which will be maintained and repaired in its own sophisticated truck repair shop. In addition, as a Krone service point, the company also takes on work beyond its own fleet. "Today, almost nothing is outsourced", says Managing Director Alexander Richter, as an explanation for the rapid response times to requirements, both outside and within the group of companies.

By reacting quickly to ever-changing customer requirements and by working in a spirit of partnership – both inside and outside the company – Amm has succeeded in becoming a leading logistics service provider in southern Germany. The right equipment behind the Amm tractor units is essentially the crowning glory on the company's success.
Artikel empfehlen